Urbanbuzzmag.com
By Nigeria Anderson
The Heart of Nancey Jackson Johnson New Cd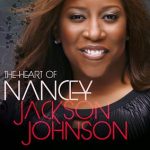 Nancey Jackson Johnson is celebrating her new release titled The Heart of Nancey Jackson Johnson. I had the awesome opportunity to celebrate with Nancey at her Cd release party in New York. It was a packed out crowd chanting We Love You Nancey.  Nancey Johnson is an anointed and appointed gospel testimonial vocalist. There is no question she is in her calling to minister to souls who need to hear about the goodness of our Lord and Savior Jesus Christ. Each song on the Cd is filled with praise, glory and honor due our Lord. My personal favorite is I Am Not Defeated. It's a declaration of God's Promises. The Heart of Nancey Jackson Johnson Cd contain other great favorites like Call On The Name and Garment of Praise.
Backstage prior to her performance Nancey and I spoke about her transformation into the psalmist God called her to be.  As believers we understand how dark the world can be, filled with misunderstandings, depravity and hardships. In times like these you must remember who is really in charge. There is a saying Let Go and Let God but do we really do that? One thing is for sure when you choose to worship and give God the Glory there is a peace that surpasses all understanding. With that being said we need songs to remind us, uplift us and encourage our hearts. We are over comers by each others testimony. Therefore,The Heart of Nancy Jackson Johnson Cd will help you to get your worship and praise on through the storm.  Hear her  testimony which is amazing.
Nigeria: I am here with Nancey Jackson Johnson, Nancey thank you for allowing us to interview you before your show. I am going to try to move quickly. Tell us about your music, how you came into music and how you are feeling today?
Nancey: Wow! That is a loaded question. I started out at church. I am a Preachers Kid. I come from a musical family, singing just came natural. This is my 3rd Cd and it's just God's favor and the faithfulness of God.
Nigeria: Can you talk about that a bit more God's favor and faithfulness.(a pause) I see you getting full at the thought of His goodness. Bless God its so real.
Nancey: (wiping her eyes) 14 years of believing God. He showed me Himself. I thought I was done after the record company I was with folded. It was dark city, I am not going to lie. I went into isolation and beating myself up. The enemy was tormenting me with a spirit of failure. Then God took me on this wonderful journey (smiling). It didn't feel good while I was in it but He showed me other things He had called me to do. Other things like, He wanted me to be obedient and He wanted to mature me. There was some things in my character that He had to get out. There were some generational curses that were in my life that He wanted to break. So, in this journey while waiting on this promise the new Cd.  I was learning. While in the journey there was promotion in other areas. I learned how to be a wife to my husband our marriage now is stronger and we are going on 16 years. I have 2 beautiful boys both miracle children. I am not suppose to be here, my heart was once functioning at 20% capacity while pregnant.  But we know a God; Jehova Rapha and so these 14 years of a relationship with God took me to depths. I can say this now (rejoicing).  I wouldn't trade it for anything in this world, for what He has done for me, to me and through me. I will not take it back. People ask me have you changed. I say its been 14 years I have been transformed.
Nigeria: (shouting bless God) Yes! Transformed that's the Word. Saints need to get that. Stop saying changed get transformed.(Hallelujah Jesus) Yes Lord.
Nancey: It's the renewing. It doesn't stop and there is still some things to be done.
Nigeria: And that is why we are here at your Cd release party. (Jesus) (to nancey) shout go ahead shout you can shout its alright.
Nancey: (mmm) Oh my goodness, I am reminded of the scripture in Isaiah which says; They that wait upon the Lord shall renew. I did a study on that scripture and the word renew means alter. So while I was waiting. God was pulling me more to His altar for me to give up everything. He let me know. In your waiting I am going to strip you of everything. You know some people say I almost gave up. I gave up!  It wasn't no almost. I said I am done, I am through. Thank You! Thank You! Let me move on to something else because I am tired of waiting. He said NO! I am not done with you yet and you are not through.
Nigeria: Been there girl, (mmm)
Nancey: He said just stay at my feet and that is where the single off the new Cd A little longer came from and is dear in my spirit. For the longest I thought He wanted my gifts. So, I was giving works of, Oh God let me be the best praise and worship leader and let me do this and let me do that. He said I want you, I don't want your gift, I gave you the gift and I am glad you are glorifying me with it but I really want all of you and so here we are.
Nigeria: (mmm) Here we are (Shew both laughing) what a testimony on how to wait on God. Wow! let me move on for it get to real up in here I feel the Spirit moving. Ok let me get it together.  Do you write and produce? and what is another track that you favor on the new Cd?
Nancey: I am a writer. 90% of the songs I wrote on this project. The other track I favor is Nothing Take My Song. The enemy wanted me to stop singing and give up. Singing is an expression of praise. There was at one point I threw a tantrum you know how we do as Christians and said God if you don't do it, I'm not singing anymore.  I was home, I had just had a breakthrough after praying and tearing down some things and in the midst of my worship the song came Nothing Take My Song. (sings a few bars) That is my testimony. Regardless of the season. Whether I have a contract or not. I will continue to do what God has graced and called me to do. So nothing is going to take my song.
Nigeria: Girl you better go ahead and press. I am so thankful and honored to be in your midst. I don't know if we can go on cause I am full in my Spirit, you full and gotta go on stage. (Lord) God Bless you and you are always welcome. I am glad to have you as a Key Player and you have our full support here at Urban Buzz Magazine. God Bless.
Nancey: Thank you.
Take a moment to listen to A Little Longer. You can purchase The Heart of Nancey Jackson Johnson Cd through digital music markets. Let's keep our sister in prayer as she enters in her next journey of song. Amen.