Urbanbuzzmag.com
By Mr. Courtney McNeil
Robert Bowden's Film Jada's Walk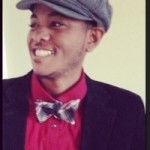 Film has been a conduit for the Gospel for years and Robert Bowden is the Writer, Director, & Executive Producer to continue in that line. He is bringing the good news to a new generation with his new film Jada's Walk.  Robert Bowden began a real relationship with Jesus Christ in 2001 and answered the call to ministry in 2004.  Bowden calls his ministry work due to his belief, that only what he does for God truly matters. Young Mr. Bowden was born in 1978. Robert Bowden has directed music videos as well as interviews pointing people towards The Lord all with flavor. His style is raw and realistic showing practical application of scripture in the middle of life's unexpected trials. This is evident in his movie Jada's Walk staring an up and coming actress by the name of Brooke Smith.
Mrs. Brooke Smith is not just an actress but also an accomplished urban minister. She continues to build a following while using her own radically potent style, consisting of a mixture of anointed singing along with some rap skills here and there. Joining Brooke is another actor who she is kind of familiar with (her husband). Mr. Colin Smith who will be playing Jason in the movie (the love of Jada's life.  Mr. Smith is a poet who ministers the gospel through spoken word. Robert Bowden knew after the initial meeting with Brooke Smith, she was Jada and with just a little plug from his wife Colin smith was given a shot and their chemistry was just what the director ordered.
Jada's Walk is a drama about a college dropout who finds herself with her parents against her.  Her man, who the parents don't like, exhibits parasitical behavior. She also has a best friend, who is a prostitute that easily gives her bad counsel. Don't worry, if you think that this sounds ludicrous, Robert Bowden has a reality twist for you. This movie does not take the course that your traditional Christian play would travel. Instead Jada's Walk shows a more obscure journey through life. Bowden wants to bring his life experience to the screen while showing Christ's love and grace to the audience without being preachy.
You can see Jada's walk on YouTube right now but don't under estimate the effectiveness of the film. It is only a matter of time and support before you see Mr. Bowden's work in more traditional places. This brother is zealous and has a clear image of where he is going. Robert Bowden is currently in the middle of writing another film, he has a team of independent visionaries riding with him to accomplish these goals. Be sure to check this young brother out now, you will not be disappointed. We ask that you like the post and watch the video to show your support for our Key Player.
[jwplayer mediaid="3669″]