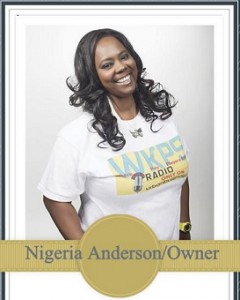 God Bless Nigeria Anderson, CEO & Owner

Nigeria Anderson is a voice of honesty
and integrity in print, radio and Television. Nigeria Is a journalist and radio host For 
UrbanBuzzMag.Com. She 
brings a wealth of experience and knowledge to her audience.  She exemplifies inspiration and encouragement to readers and listeners around the world. Known as The Bronx Queen of Praise!  Nigeria Anderson, is totally committed to helping others by offering her services to community efforts such as Community2Community, Bey Scholars Inc. Chess Lords program, Virginia's Green Door, Mentoring youth, Mentor With StreetWise, Radio Host, Speaker and providing a platform for quality artists in arts and entertainment. Nigeria Anderson is a member of  We Are Phenomenal Women (W.A.P.W) And The New York Association of Black Journalists (NYABJ) an organization of African American journalists and media professionals.
THE URBAN BUZZ MAGAZINE, "WHERE KEY PLAYERS SPEAK," WOULD LIKE YOU TO KNOW THAT WE ARE A PUBLICATION AND MEDIA UNIT THAT SUPPORTS THE GIFTS, TALENTS AND ABILITIES OF THOSE IN EVERY AREA AND GENRE OF ENTERTAINMENT. IF YOU HAVE A NEW RELEASE OR PROMOTION COMING UP DON'T FORGET EMAIL US YOUR PRESS INFORMATION TO URBANBUZZMAGAZINE@AOL.COM.
ABOUT MS. NIGERIA ANDERSON
Ms. Nigeria
Anderson is an Alumni of City College of New York, where she received her B.A.
  Besides print And radio, film is another passion on the rise of this phenomenal woman of faith and love.  Nigeria has worked for, Atlantic Records, Def Jam, 
Fox, Turner, HBO
 and 
Volunteers of America
 to share some background. 
Where Key Players Speak!  i
s An Urban Buzz Magazine tagline.  Nigeria Anderson is a Key Player herself,  she brings to the forefront other Key Players from our arts and entertainment community.  Ultimately, it is Ms. Anderson's desire to make sure that Key Player status is synonymous with quality and professionalism. 
Ms. Nigeria Anderson is highly accomplished and respected in the entertainment industry.  Her vision have united music genres like none other media medium.  She Is applauded for being able to rightly divide secular and inspirational reporting.  Her client list and interviews show she does her job well.  "It is a blessing to be recognized for being diverse in media in secular markets and inspirational markets.  As a Christian in this industry I am just thankful to have a venue where other Christians can feel comfortable speaking with me as well as artist across the entertainment spectrum. The synergy is good!" says Nigeria Anderson.
The Urban Buzz Magazine (UBM) "Where Key Players Speak" (WKPS) focus is positive.  We want to show when you work and follow your dream, there are people who care.  There are many who inspire, there are legends and there are new memory makers.  Stay with us as we bring you news worth knowing about.
Listen to our RADIO page 24hrs WKPS RADIO! WHERE KEY PLAYERS SPEAK! stream our archives, also we're on WRN PRAISE

Courtney McNeil
UrbanBuzzMagazine@aol.com
R.G. Major, Jan Clarke, Mrs. V, Cheryl Wills, Lucas