Urbanbuzzmag.com
By Nigeria Anderson
Business Woman Entrepreneur Tonya Moore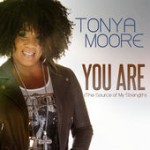 Tonya Moore may wear many titles but her best title is overcomer.  She is an author, entertainment executive, entrepreneur, and mother. The multi-talented Tonya Moore has recently added a single You Are The Source Of My Strength to accompany her book I'M All F*d (Freed) Up: The Story of My Life. Her single is a love song to God, praising Him for His faithfulness. Tonya Moore is very humble when explaining that her Cd is not for vain glory but paying honor to God.  Her testimony might make you shout and rejoice with us. Tonya explains in detail how she birthed this project out and I believe it will serve as  a good ministry tool for most. It is her personal cry from her heart to our Heavenly Father for all He has done.
Tonya Moore's book  I'm All F*d (Freed) Up: The Story of My Life is a candid collection of stories regarding her trials and tribulations unto victory.  The autobiographical book recounts Tonya Moore's roller-coaster life which, have taken sharp twists and turns down various roads of abuse, neglect and later a return to love, rebirth, and triumph by the Grace of God.  Tonya Moore says; This project is a celebration of my victory In Christ.  Tonya Moore's other ventures include a non-profit organization called Horiaos (Greek for beautiful) Image and Etiquette for Teens designed to teach young girls to love themselves.
I had the pleasure of interviewing Tonya Moore and you are about to learn how to go through and come out as pure gold.
Nie: Greetings Tonya Moore it is a pleasure to catch up with you again. We enjoy when we have people come back and update us when they have a new project out. Let our readers get to know you and what you are doing of late.
Tonya: A little background about me. I work in entertainment. I am a mother of two both of my children are in college now. I am an author of a book  I'm All F*d Up which means I'm All (Freed) Up and I recently released a single titled You Are The Source Of My Strength to go with the book.
Nie: I'm all Freed Up. That is a great title but tell us what you are freed up from? How you get free? and how you stay free?
Tonya: Well I am all freed up from the opinions of people. I am freed up to be everything God has called me to be. I am who God says I am. I am not who everybody else says I am because Jesus died on the Cross for us and He paid for it all on Calvary.  I am freed up to be the new creation that I am.  I'm not letting nothing hold me back. Everything He has given me my gifts and talents, I am using it all for His Glory.  I'm just freed up to do it.
Nie: I hear you, the single You Are The Source Of My Strength now I have to admit. I'm trying to pull you, I want to know with such titles Freed Up and You Are The Source Of My Strength I know there is a testimony in there somewhere this is Urban Buzz Mag don't be afraid to glorify Jesus. You spoke about Calvary keep on let our readers know you from a more personal point of view.  How you reached this place of being free and knowing, He is the source of your strength and how do you stay free?
Tonya: Firstly, you have to address your issues. We all have issues.  Sometimes we don't want to deal with our issues and we want to mask it. You have to admit you have issues, then confront those issues and after you confront it then confess it.  Then you can do something about it.  You may have to go back and confront some people and forgive those who offended you.  If you don't deal with unresolved issues it manifest in your delivery, you have to forgive and let it go.  When you let those issues go then you can be free. How you stay free don't look back move and press forward toward the things God has for you. When you get free you can use it as a testimony to be able to help someone else get through with what they may be going through.
Nie:  Amen.  How did you come up with the idea to release You Are The Source Of My Strength to connect it with the book?
Tonya: The book talks about the different chapters in my life and at the end of the day after all I went through I always reflect back on my salvation. We all go through stuff but He is the source of my strength. If it had not been for the Lord in my life. I would not have made it through all that I went through so He Is My Strength.
Nie: Yes, yes, If you don't mind.  Would you share with us something you went through and let our readers know a principle you put in place to help you get through. Sometimes we hear others say things or hear a scripture quoted but we can't be just hearers of the Word of God but doers and obviously you are doer. Can you share with us some principles you put in place?
Tonya: You have to acknowledge that God Is. You shouldn't take the band-aid off before you are healed. I had to just go back and deal with some stuff, hard personal stuff but I had to deal with it and that is what I did. But in order for me to really deal with my issues I had to know who God is because if I don't know who God is I don't know who I am. It was Jesus who opened up my eyes and let me see who I really am and it was by the Grace of God and His mercy why I was able to get through not because of me but because of Him. And in return I live my life for Him. I have been through rape, abuse, divorce and domestic violence all of that and I used it all as fuel to catapult me to the next place in my life. I didn't use those experiences to stay there. You know sometimes we want to use those things to stay there and be a victim but no. I am no victim, I'm victorious. I'm here to use those experiences to help someone else know that they may go through those things but you still can be somebody. You can be an overcomer. You can overcome those things and still be a good wife and a good mother even though you been through somethings. Some people don't make it through they commit suicide or they have nervous breakdowns. I'm here today to say I still have my right mind. I am a living testimony to somebody you can make it.
Nie: Amen and amen you're pushing me now LoL. See now that is how Key Players Speak! Truth. It is a blessing to have you back to share your testimony and more importantly to inspire and encourage our readers not to let things make you feel like a victim but be a victor. More importantly to put your trust in Jesus.  He is the one who paid it all for us all to be able to get through the schemes and plots of our adversary.
I thank you so much Tonya Moore for being a part of the Urbanbuzzmag.com family and I know someone was blessed by your words of encouragement.  What I admire most about you, you maintained your faith through every situation. You could have easily quit. But you truly remained steadfast and still played your mother role, congrats on the girls in college Bless God.  You still had to work everyday to provide for your family and now look at you promoting your own material because there is a call on your life to be as you said who God has called you to be and my Bible says Greater Works. Jesus.
Tonya: There is power in that name.
Nie: Amen girl don't start Lol. So how can people get your book and Cd is it on Amazon and ITunes?
Tonya: Yes. And it's all to encourage someone and me honoring God for all that He has done in my life. The single You Are The Source Of My Strength is a simple song not a lot of words. Good to sit with in your quiet time and worship. I said God I just want to dedicate this song to you. It's not about sales, it's my love song to God and me worshiping God. We were born to worship Him.  I just want God to know I appreciate Him and acknowledge Him and make Him Lord over my life.
Nie: Amen and you are off to a great start. What else is going on with Tonya Moore?
Tonya: I just finished up the music video for the single  You Are The Source Of My Strength which will be out at the beginning of the year 2015.  After that I will be working on a stage play. So that is what's going on.
Nie: Amen, wow I can see the Lord is keeping you busy seem like it might be a birthing season for you. I feel something in this interview.
Tonya: It's time for the seeds to come forth. God has been good.  To God Be All The Glory.
Nie: Amen and what is so great about God.  He will provide for whatever seed you sprout out according to His Will and become called Blessed of God. I like when you said the single is not about sales but a thank you to God. Sometimes we just forget to just say thank you. So, busy doing business and creating which is good but who gave you all those gifts and ideas. You are well on your way so know you have a friend and however, we can help you from our end we got you covered.  Amen. Thank you so much for your time. I can feel it He is getting ready to take you places where you didn't even think you could go.
Tonya: Yes I receive that. Thank you. God Bless you Nigeria.
Blessing be unto you as well. We want to thank our Key Player Tonya Moore for allowing us to be one of her media outlets. It is a real honor. Tonya Moore is the Event Productions and Corporate Relations Manager at BET Networks and the leading provider of entertainment for the African-American audience and consumers of Black culture globally. Ms. Moore brings over 20 years of event management experience to BET Networks and has helped contrive colossal events such as The BET Awards, Bobby Jones Gospel, Black Girls Rock, The BET HIP HOP Awards, Celebration of Gospel, Sunday's Best, The Soul Train Awards and The BET Honors.