Urbanbuzzmag.com
By Nigeria Anderson
Wu-Tang Clan Mics and Men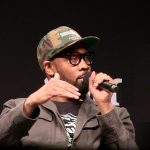 Wu-Tang Clan four-part documentary, Mics and Men will air on May 10th at 9pm on Showtime television.  The legendary Staten Island Hip-Hop clan is celebrating its 25th anniversary of their debut album Enter the Wu-Tang (36 Chambers).  I had the pleasure of sitting in on a discussion about their documentary Mics and Men directed by Sacha Jenkins. The evening filled with moments of remembrance of late beloved Ol Dirty, fond memories of their humble beginnings and some of their greatest achievements. In attendance was RZA, GZA, Inspectah Deck and Cappadonna.  My first time in marketing and promotions, was working with my friend Reg-Reg and guess who was one of our clients. Just a little Key Player trivia. Anyway it was fun to reconnect and see how far we all have come.
The documentary allowed Wu-Tang Clan to shed their skin and share their story.  Wu spoke about their jobs working to make ends meet. When doors of various record companies would not open. They created Wu-Tang Productions, Management, Publishing, Records and Merchandising Wu Wear their logo on a T-shirt which earned them over 20 million dollars. Wu-Tang Clan did not let money destroy them, they used the 12 tools of life and reinvested in themselves. RZA spoke well of Snoop Dogg who at the time had Dog Pound similar to Wu-Tang Clan both represented a close-knit and interrelated bond of family and friends. Snoop gave words of encouragement about their Corporate 500 style they brought out of the hood. When you listen to C.R.E.A.M Cash, Rules, Everything, Around, Me, RZA expressed, it rules those things around but not Wu.  Their role is to get the money. Could be why they are still going strong as Wu-Tang Clan.
RZA said today, he realizes why record labels didn't want to sign 9 guys with a song with no hook, Protect Your Neck.  Wu-Tang Clan was comfortable being different. As MC's authenticity meant everything. Their success comes from practicing the 12 jewels of life; Knowledge, Wisdom, Understanding, Freedom, Justice, Equality, Food, Clothing, Shelter, Love, Peace and Happiness.  Make sure you watch Wu-Tang Clan four-part documentary, Mics and Men on May 10th at 9pm. I want to extend a spread of love to my fellow journalist and friend Mrs. Stephanie Woods, Wu-Tang! Wu-Tang! Wu-Tang!