Urbanbuzzmag.com
By Nigeria Anderson
Adam Spreeman EP LIQUID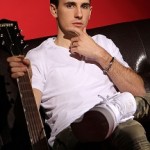 Adam Spreeman is a singer/songwriter/musician who released his EP Liquid featuring, Poster Child and Bad Habit, which positioned on Billboard's Hot 100 Singles. Adam's passion is music and song, which can be heard on his latest EP Liquid. For Adam Spreeman each song had to be different. Liquid is an authentic and creative project without prejudice to what is popular on radio today.  Adam Spreeman is soaking up life and dispensing it through song. Allowing his audience to trust his sound.

Adam Spreeman is quickly becoming one of our generation successful songwriters. He is actively creating catalogs to place him on various musical charts. In our interview Adam shares, there are few artists he feels would benefit from his songwriting abilities. When you listen to Adam Spreeman EP Liquid you will be able identify that he has an impressive songbook to share.
Although he is a pastor's kid, Adam Spreeman is free to release his innate ability to produce his sound for all to enjoy.  He is a singer-songwriter that refuses to get pegged by a genre of music or style.  Help welcome our new Keyplayer Adam Spreeman. Press  play and listen to our interview, it will bless you. Be sure to visit https://adamspreeman.com/music and look for him on social media.