Urbanbuzzmag.com

By Lucas
The Incomparable Dionne Warwick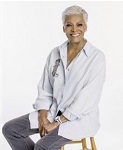 Dionne Warwick! Her musical grace, passion, power & precision have been essential to the world's soundtrack for 60+ years & running, as she enjoys her newly released single, Power In The Name.  From the early 1960's on, her iconic sound set the bar in American pop music by earning more than 60 charted hit songs and selling over 100 million records.  The legendary singer got her start in family groups the Drinkard Singers and the Gospelaires.  She was singing backup at a session in 1962, when the song's composer, Burt Bacharach, approached her, marking the start of one of the most fruitful triangular musical-marriages of all time.  Bacharach and the lyricist Hal David composed a glorious series of varied and genre-defying masterpieces tailored to Warwick's exquisite vocal delivery.
After 30 hits and close to 20 best-selling albums with their brilliant triangular-team, Dionne Warwick received her first Grammy Award in 1968 for, Do You Know the Way to San José? and her second Grammy in 1970 for the best-selling album, I'll Never Fall in Love Again.  Over the following years, Warwick enjoyed numerous hits while collaborating with a variety of producer/songwriters from Thom Bell to Barry Manilow; Issac Hayes, The Bee Gees, and more.  To this date, she has earned 6 Grammy Awards, including a Lifetime Achievement Grammy in 2019.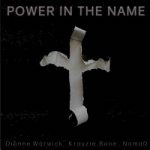 Dionne Warwick has done more than entertain the world; as a humanitarian, Warwick has served as the U.S. ambassador of health and acted as a United Nations Global Ambassador for the Food and Agriculture Organization.  She also made recording history with Gladys Knight, Elton John, and Stevie Wonder with That's What Friends Are For, the first recording dedicated to raising AIDS awareness.
Growing up in a musically-anointed, lovingly supportive family has surely helped shape the artist/activist, as music is healing.  And a similar mantra informs her latest single Power In The Name, with Krayzie Bone (of Bones, Thugs-N-Harmony) and NoMaD, her son Damon Elliot who also serves as producer on this project.  The song offers listeners a powerful message about hope.  Proceeds will go to charities for the homeless. Make sure you purchase a copy. https://empire.ffm.to/powerinthename. Warwick is consistent with sharing her faith and inspired lyrics to make a difference.  This Black History Month we are honored to celebrate and welcome our new KeyPlayer, the truly timeless, Dionne Warwick.  You can connect with her on Twitter @dionnewarwick  PUSH PLAY