Urbanbuzzmag.com
By Nigeria Anderson
New Release A Serious Problem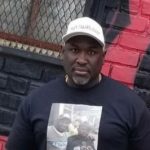 Amadeus360 is a veteran songwriter, Dj and producer who has a remarkable career span in creating Hip-hop beats and R&B. Although, he had a group and put out a remake of LL Cool J's song I'm Bad and titled his I'm Tuff. He realized quickly, he rather leave singing and rapping to the professionals. Amadeus360 new release A Serious Problem, features hip-hop duo M.O.P and Teflon. M.O.P known for their lyrical skills and music videos do not disappoint. Amadeus360 beat and M.O.P is a musical marriage. Nope excuse me it's A Serious Problem.
A Serious Problem is a hip-hop banger. It's available on digital outlets and their video is on Youtube. Amadeus360 beat keeps you in the moment, providing artistic musical flavors like Baskin-Robins. Amadeus360 artistic gift. Building a musical camaraderie with every artist he works with. Some of his top influences are Dj Premier, Pete Rock, Large Professor, Lord Finesse (reppin my City the Boogie Down Bronx) and A.G (from Showbiz and A.G) all who are Hip-hop Stallions. Therefore, there is no surprise A Serious Problem gets put on repeat.
So tune in and hear how to maintain longevity in the business of Hip-hop. Hear who else is about to drop on beats by Beat Master Amadeus360. Welcome our new KeyPlayer Amadeus360, you can follow him on Instagram @Noquantize360.