Urbanbuzzmag.com
By Nigeria Anderson
Antonique Smith New Single Is Out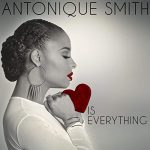 Antonique Smith is a singer and actress with amazing vocal range. Urbanbuzzmag.com deem Antonique Smith  a Key Player, she is the first African American indie artist to raised over $50,000 in 30 days on Kickstarter for her new single.  Antonique Smith used social media to generate funds to support her music career. For the record.  When you are serious, you can use your talent and popularity to reach your goal. Antonique Smith has just release Hold Up, Wait A  Minute! from Her EP  Love Over Everything.
Antonique Smith is known for singing the National Anthem, College tour and performance at BET Music Matters. Antonique Smith has also been featured in Hollywood movies and TV shows. You may remember Antonique Smith who played Faith Evans in the box office hit Notorious. The powerhouse singer, whose sound was developed in church, landed her first job on the Broadway stage as Mimi Marques, in the Tony Award winning musical RENT.
Antonique Smith's edgy up tempo new song Hold Up, Wait A  Minute! has a retro soul feel to it.  I had the pleasure of speaking with Smith, who explains Hold Up, Wait A  Minute! is a liberation song.  She further explains, It's time to take the power back for all the injustices in our lives and I made this record to do just that! Hold Up, Wait A Minute! Please welcome our new member to the Key Player family Antonique Smith.