Urbanbuzzmag.com
By Nigeria Anderson
CHRISTOPHER MARCIANO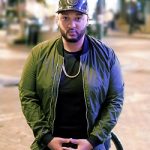 Christopher Marciano is a singer and songwriter climbing his way to the top song by song. At a young age, Christopher Marciano began writing to express his feelings. He was challenged in school because of the way he spoke. In spite of his many challenges, writing was an outlet that landed him on several platforms you will hear about during our interview. Every now and then I get an email which captures my full attention. Christopher's was one. He is burgeoning his way into our hearts with songs like Runaway, I'm Just Me, Straight Jacket and my favorite Discussion. Christopher is fresh out of the studio with another gem In Love With Your Lover.
What I enjoy most about Christopher Marciano the singer and songwriter, there is nothing ordinary about him. He is graciously pursuing his solo music career and people love him. Christopher's creative impetus brings you to his table of songs to eat, belch and dance. He is bringing us music we want to hear and need in this era of COVID19. His lyrics are abstract and introspective providing space for him to evolve. Christopher Marciano brings so much to the table as an artist.
Beyond music, he is an assistant principle and has taken part in assisting parents with educational tools for free during COVID19. Streaming out of Florida. Yes! Florida. Holding rank with fellow Floridians like Ariana Grande, Casting Crowns and the late Tom Petty. Welcome our new KeyPlayer Christopher Marciano. Find out who he has written and co-written with, awards and which reality show snatched him to be on their show. Connect with Christopher Marciano on social media and his website https://www.marcianomusic.com/. Tune in and enjoy our interview.