Urbanbuzzmag.com
By Nigeria Anderson
The Full figured USA Pageant 2015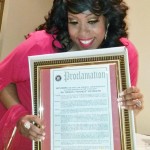 Ms. Theresa Randolph (Queen of NJ) Founder/CEO Ms. Full Figured USA Pageant was honored during her 26th year celebrating Ms. full figured women in NYC this December 2015.  In this photo she is receiving a proclamation.  I attended this event and was excited to see and hear of wonderful works these beautiful women contribute.  Ms. Full-figured USA Pageant brought more to the runway than outfits and struts.  These women contributions to community and church alone deserved a standing ovation. Being beautiful on the runway was a performance of splendor, without question Ms. Theresa Randolph pageant was worth coming out for.
The next Ms. Full-Figured USA Pageant, will take place on April 16, 2016 at the Robert Treat Hotel in Newark, NJ. Ms. Theresa Randolph is not only beautiful, she has created a movement which travels around the world. 26 years in celebrating full figured women speaks for itself.  Although, she was doing this prior to social media.  I do want to thank Social Media which is a voice for we  are not going to take it anymore, a door of opportunity and voice of reason. Today we all can come out of the closet literally.  No more hiding or being a shame.
Curvy or slender, female or male you are beautiful. The stereotypes stop now! We are in an overexposed era of time.  It use to be thin was in. If you were not thin entertainment was not an option, unless you were the overweight laugh out loud pun.  Thin does not prove you are healthy nor does being overweight mean you are unhealthy.  So, where does that leave us?  It has been very disappointing how media have played such a role in creating false images affecting a person's self esteem for both men and women.  I have to say thank you Ms. Theresa Randolph a pioneer who has made a commitment to celebrating beauty and passing it down to our youth.
I personally left the 2015 Ms. Full-Figured USA Pageant, feeling more confident about myself, knowing that at the end of the day, if we are not helping someone else, we are in the way.  Congratulations to Ms. Theresa Randolph of  Ms. Full-Figured USA Pageant, for demonstrating to us that beauty comes in all shapes and sizes. For more information click on the link http://www.msfullfiguredusa.com/