Urbanbuzzmag.com
By Nigeria Anderson
My Child Is Going To Be Rich and Famous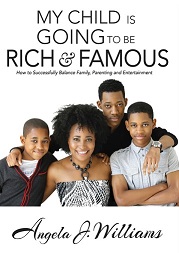 Angela J. Williams is no stranger to entertainment. Her credits represent her expertise and gifts; ordained minister, singer, songwriter, personal business manager, life coach/spiritual adviser and author of her new book My Child Is Going To Be Rich and Famous. Angela Williams book is distilled from her many years experience in entertainment. So, only naturally when her son Tyler James Williams of Everybody Hates Chris decided television is where he wanted to be, Williams was prepared to help him carve his way into an industry where horror stories can discourage you. However, her book is the mantle you will need to get that role.
My Child Is Going To Be Rich and Famous will turn your idealism about acting to a reality. I had the pleasure of having that Key Player  no holds barred conversation. We discussed being black-ball and the illuminati in a straightforward and spirited manner. Angela J. Williams is sharing everything not only for our interview but in her book. Having three sons in the business, please note she has more than a few tips to share.

My Child Is Going To Be Rich and Famous is far from how to get rich or get that gig in seven days. Included are industry resources and expert advice to provide a true perspective regarding acting and the entertainment business.  Angela J. Williams book is designed to identify structures for your successful journey to the big screen.  If you are a professional actor or a person interested in exploring acting, it's a must have book.  Remember with a role comes responsibility.  I encourage you to listen to our interview below and be encourage.