Urbanbuzzmag.com

by Lucas
Melba Moore – Legend!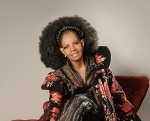 The One and Only Melba Moore!  Always a key-player, Urban Buzz Magazine is honored to acknowledge and give thanks for all the inspiration, all the opened doors, all the music; As well as highlight her widely acclaimed, brand new soul-savvy album – IMAGINE.  Born to the music-manor, Melba Moore's career spiraled in paths often surprising (to her), but almost always successful. One may call it fate, flavor or favor; and maybe it's all those things and more, but no doubt Melba would faithfully say – to God be the glory.  Daughter of saxophonist Teddy Hill whose own orchestra featured music-masters Dizzy Gillespie, Roy Eldridge, and Bill Coleman.  Hill was also widely known as the manager of Minton's Playhouse in Harlem, back in its jazz heyday. Melba's mother, Bonnie Davis was a prolific and very popular singer with her Don't Stop Now reaching number one on Billboard's R&B chart. She encouraged her daughter's dreams, but also moved Melba to earn a B.A. in Music Education…just in case. Clement Moorman, pianist, music director and loving stepfather was instrumental in Melba's early piano lessons, as well as her entre' into showbiz as a session singer which eventually led from there to ..Hair! Purlie! Timbuktu! & beyond.
But even before higher education or Broadway's bright lights beckoned, teenaged Melba enjoyed a little-known, but well-reviewed single Here Today and Gone Tomorrow on the one-off  MelBab label with jazz singer-poet Babs Gonzales, where she was befittingly billed as, Little Girl – Big Pipes. Only a few years later, during her brief foray as a teacher in Newark Public Schools, Melba along with other faculty, formed Voices, Inc., a performance ensemble rooted in African American history and culture. The group's appearances include public television's History of the Negro People with Ossie Davis and Ruby Dee. In the early 1960s, Voices, Inc. released albums combining contemporary rhythms and narratives with a musical style rooted in spirituals and freedom songs. Why do I mention all this here? Because from these roots, rises Melba Moore, the musician, the humanitarian, the peaceful warrior who through many storms, still rises. And still surprises, beautifully.
In the interview, we speak of her groundbreaking and award-winning performances on Broadway, the multiple Grammy nods, helming 2 name-in-title television series and even her trailblazing afro-centric fashions.  And in August 2022, for her years of community service – Melba Moore will receive the Lifetime Achievement Award from President Joe Biden.  But standing-right-here, right now – Melba is fervently-focused on IMAGINE, her new album, which has already scored 2 number one hits on the U.K. Soul Charts. It's a family affair with her daughter Charli Huggins as executive producer. As always, Melba's vocals are in fine form as she collaborates with some of the same talented team involved in her chart-topping recording triumphs at Hush Productions. Welcome our new KeyPlayer Melba Moore. You can connect with her on Instagram @melba1moore. PUSH PLAY
https://www.amazon.com/gp/product/B09YN1WCTM/ref=dm_ws_sp_ps_dp
"a place for love, a place for peace…can you Imagine?"