Urbanbuzzmag.com
By Nigeria Anderson
Bathsheba Smithen New Single Let's Get It Rockin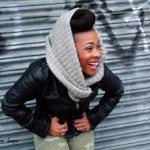 Bathsheba Smithen is a lyricist, educator, recording artist, author and motivational speaker, spreading a victory message Let's Get It Rockin her latest single. She is gifted, talented and smart.  Bathsheba Smithen turned her struggles into strengths and found out who she is in the process. Most importantly, she's on a mission to inspire, educate and empower those who tussle with their identity unaware of the greatness God has placed within them.  Self identity is a war which stirs within, not nurtured it can leave many confused and frustrated. Bathsheba Smithen shared with us her own testimony of what it took to push past obstacles to reach victory.
Using faith as the backdrop and music as her soundtrack, Bathsheba Smithen released her first recording and accompanying concept music video called Let's Get It Rockin. A mixture of rap and what Bathsheba calls Neo Rock.  Let's Get It Rockin is a song of motivation and encouragement.
After being abandoned and left to raise her brothers and sisters, Bathsheba recently accepted her call to evangelize through her music, book and motivational speaking engagements. It's nothing like getting thrown off track but with hope and love it makes everything possible again. Not many return to strengthen another after such a hardship. Bathsheba Smithen mission is to make sure if you cross her path, music or book, you will have tools to move you forward into your destiny. There is no easy 1,2,3 method but to know that you can come out and be all you can or all you desire.  That is good news.
I pray you listen to this interview and share it. You never know whose life is in the balance and may need a little push forward. For more information regarding Bathsheba Smithen visit her websites: http://cagefreevoices.com/  http://www.bathshebasmithen.com/ Here is a link to her music video: https://vimeo.com/98790624 .